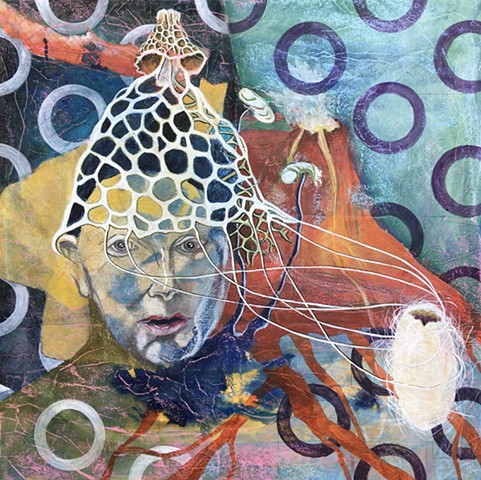 Linda Laino Paintings
In one of her poems, Mary Oliver refers to "playing at the edges of knowing." I associate this idea with the way that I approach my art-making. Like poetry, I utilize a condensed language to explore the connection we have to nature and how it informs our sensory contact with the world. In its infinite wisdom, nature consistently reminds us of the mystery of the hidden and the fragility of the exposed.
Fusing known images with memory and experience creates a sense of exploration that connects fragments of thought into whole vision. I am interested in the "play" between art and science. Forms such as cocoons, eggs, pods and sacs with their suggestion of hidden space and its promise of revelation, birth, change and growth, also invites mystery, shelter, containment and death. This ambiguity is where we position our daily lives finding amazement at the strength but also the vulnerability of the world.
Painting on many layers of cotton and rice paper allows me to add and build, creating a sense of history within the process and combines my love of construction, collage, texture, pattern and image.
Seeking to make connections where there seemingly are none, I hope to visually trigger an emotional or psychological link to other things, to explore the synthesis of image and object and to create a vivid sense of experience.