Promote Your Artwork. Let Me Write Your Story!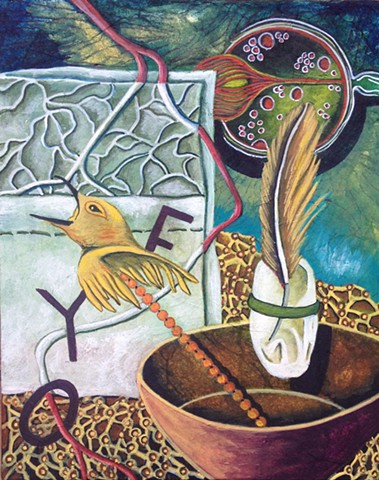 Would you like your work to reach more collectors? Do you have an exhibition coming up that would benefit from additional PR? Would you like collectors to gain a greater understanding of your work in order to generate more sales? Let me help you by writing a profile for your next exhibition, sale, studio visit or possible publishing opportunity in your area.
Artists excel at creating images-that is what they do. What they are not always good at is translating those images into words. During an artist's career, he or she is often asked to do just that-for grants, exhibitions, and speaking engagements. When a collector wants to purchase a piece of art, they often want to know something about the artist. It helps them understand the work more if they can understand the artist's thoughts, and creative process and maybe even some insight into their personal story. As a professional artist with a career spanning almost 40 years, I am first and foremost an art lover and maker. Creating my own work allows me to write objectively about another's, yet still relate to how they may have arrived at their conclusions, since I have explored and understand my own creative process. Profiles are the artist's story. This is a marketing tool. When someone buys a piece of art, they are curious about the artist's background. Having a written profile accompany a gallery exhibition can help boost sales by giving the buyer something extra-a connection to the maker. Many people are intimidated by art and artists. They are interested and intrigued and want to know more but maybe don't know which questions to ask. A profile can help the buyer and seller begin a dialogue.




Testimonials:
"Linda is a perceptive and sensitive writer. Her empathic view of others, careful research and grasp of overall direction lends her writing deep understanding and dimension within the fleshed out bigger picture she paints. Linda's writing, like her mandalas are full of color rhythm, and lively tempo." ~Suzyn Hutton Kelley, Jeju-do, South Korea
"Linda Laino was a true find! She wrote a beautiful article about me that was so spot on. I have used it on my website. She has a poetic writing voice and with a series of very intuitive questions in advance she practically wrote the entire article before meeting me. I asked her to it in a rush for an art show and her turn around time was less than 48 hours. Our Meeting turned out to be just a great cup of coffee as she had already written the article!"~Jana Koplen, NY, NY and San Miguel de Allende
How A Written Article Can Help Promote Your Work
*Clarify your thought process and give collectors some insight into your creative process, education and inspiration.
*Art galleries, other artists and art venues want to see press coverage.
*An article promotes your "story" by creating interest and can generate more sales with collectors.
*An article can be copied and handed out to prospective buyers at your exhibition openings. They will be grateful to know more about your work!
*An article can drive traffic to your website and give you credibility.
*Framing your work and process in a professional article can have an impact on your reputation as an artist.
Here is the Process:
1. You send me a link to your website or images of your work.
2. I email you a list of questions in order for you to consider your responses.
3. We schedule an interview in person or through Skype and discuss your background and creative process working from the previous list of questions.
4. I write the first draft of the article of 800-1200 words.
5. I send you the first draft to check for accuracy of facts, you may make note of any changes you deem important.
6. I consider the changes and write the final draft. You receive the article composed in a polished document with your images.
7. You are ready to copy and distribute your article as a promotional tool
8. I will promote the article on my social media drawing collectors to your website.
9. Payment of $200 through Paypal.
Please contact me at lalainoart@yahoo.com or Mexican cell 415 566 1684 in order to discuss your needs and my simple process. Below, I invite you to read these published artist profiles.
"Origins and Roots: The Art of Polly Stark Ortega"
"Connecting With The Landscape of The Imagination: The Art of Suzyn Hutton Kelley"
"The Good Eye: Elizabeth Watt and the Elegance of Space"
"The Whimsical Art of Jana Kolpen: How A Love Of Travel And Cooking Changed A Life"